First, it is important to make clear how COIL/Virtual Exchange differ from other forms of online education. In MOOCs (Massively Open Online Courses) students from many different countries have access to shared online course material, so the focus is on the content. In typical Distance Learning students in one country can access a teacher in another, so the focus is on the teacher.
In comparison, COIL focuses on using the internet to allow students in different countries to work together on common projects. In this case, the focus is placed upon the students and their collaboration with one another, i.e. encouraging them to take a proactive and participative role in their education.
What do we mean by "Virtual Exchange"?
Virtual exchange (VE) uses technology to connect people from different countries or cultures for mutually beneficial educational exchange and cross-cultural dialogue. VE uses a mix of synchronous (e.g. Google meet, zoom) and asynchronous (e.g. recorded video/audio materials), social media posts, or email) technologies that allow participants to interact and exchange beyond surface level connections.
Collaborative Online International Learning (COIL)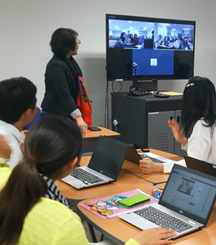 COIL is one of Virtual Exchange practice, and it is more closely tied to a pre-existing course in a university curriculum. So, if you are a student, one of your courses may have decided to collaborate with a course overseas to give you a chance to work together in a virtual international group. That's COIL.
In the COIL model, as described by SUNY (State University of New York), students from different countries enroll in shared courses with faculty members from each country, by co-teaching and managing coursework.
The COIL classes may be fully online or may be offered in blended formats with traditional face-to-face sessions taking place at both schools, while collaborative student work takes place online.
What other kinds of online learning modes are there?
You may have encountered various online learning modes already. Some of them are described below. Some times these practices may be using labels such as "virtual exchange" or "online mobility program," which may blur your understanding.
MOOC
An acronym for Massive Open Online Course. MOOCs are often offered by educational institutions to individuals around the world who can sign up for free or for a fee without needing to enroll in a larger course of study. (Adapted from MOOC.org: https://www.mooc.org/about-moocs)
Virtual Mobility
It is an activity that offers access to courses in a foreign country through the new information and communication technologies. Virtual mobility is implemented in a ICT supported learning environment (e.g., using Learning Management System). It may serve as an addition to physical mobility (for example, before a short-term study abroad, during and after).