ENQA and AQAN Convened the First Strategic Policy Workshop in SHARE Extension
English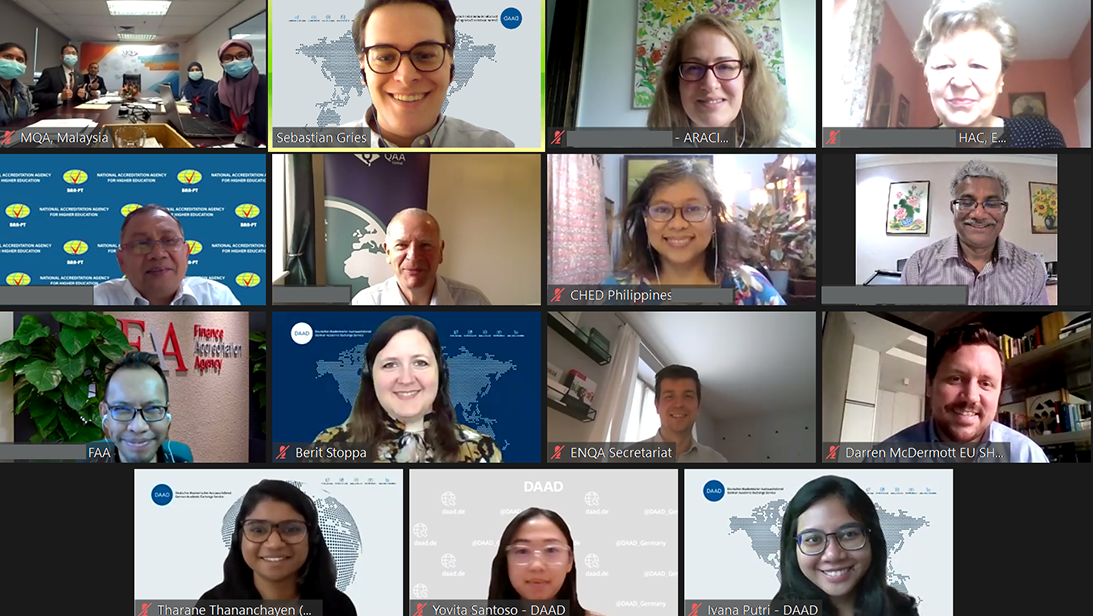 The first series of Strategic Policy Workshops in the SHARE Extension phase between the ASEAN Quality Assurance Network (AQAN) and European Association for Quality Assurance in Higher Education (ENQA) kicked off online on Wednesday, 28 April 2021.
Members of the AQAN Executive Committee, AQAN Technical Advisory Committee and ENQA board members engaged in strategic discussions regarding the role of AQAN in the ASEAN region, its financial sustainability, the implementation of the ASEAN Quality Assurance Framework (AQAF), the agency review scheme, as well as the realisation of AQAN's Strategic Plan 2020-2025 and the AQAN Constitution, adopted in November 2020.
Coordinated by DAAD and ENQA, the Strategic Policy Workshops -- which were held in the previous phase of the SHARE Programme (2015-2020) and are continuing in the SHARE Extension phase (2021-2022) -- function as a platform to strengthen exchange between AQAN leadership and experienced ENQA board members. The series of workshops also aims to support AQAN in taking full ownership of SHARE's results in Quality Assurance by the end of the SHARE Extension phase.