Hybrid modes of teaching & learning and continued need for international cooperation emphasised in the SHARE-NUS "Ensuring Quality during Challenging Times" Seminar
English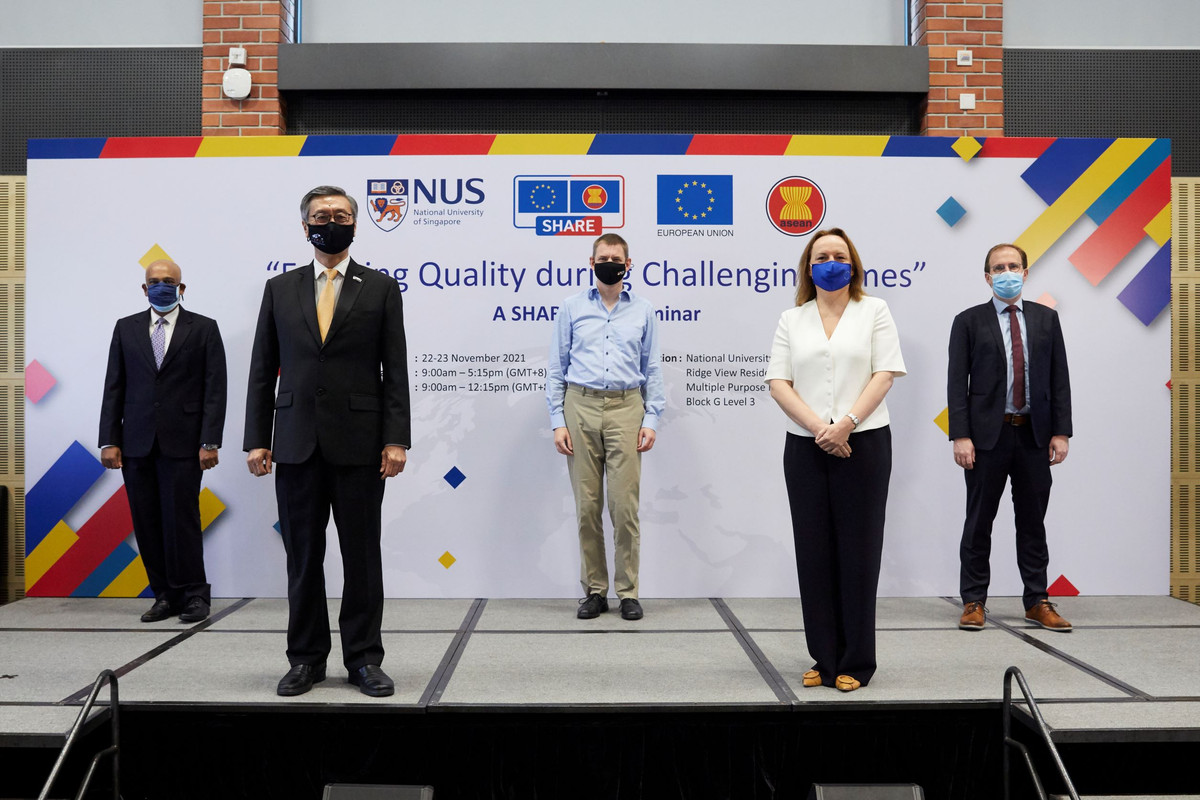 The SHARE-NUS "Ensuring Quality during Challenging Times" hybrid seminar, in collaboration with the NUS Centre for Development of Teaching and Learning (CDTL), took place over the course on 22-23 November 2021 at the National University in Singapore (NUS) and simultaneously online via Zoom. The "Ensuring Quality during Challenging Times" seminar is the first hybrid seminar conducted by the SHARE Programme since the pandemic was declared by the World Health Organisation in March 2020.
The seminar, engaged higher education stakeholders across  the ASEAN region and in Europe to discuss scientific cooperation to overcome the challenges of  the pandemic, innovations by  universities and external quality assurance agencies, and the post-pandemic outlook for  teaching and learning as well as international collaboration. It was noted how the pandemic has brought the region closer together in cooperation, further highlighting the need to foster cultural awareness, develop capacity, and invest in adequate allocation of resources to make international education exchanges sustainable.
The seminar was opened by H.E. Iwona Piórko, Ambassador of the European Union to Singapore, and the NUS President, Prof. Tan Eng Chye, both of whom emphasised the continued need  for cooperation  through the augmentation of  trust between institutions.
Session 1 on the "Importance of (Science) Cooperation between Europe and Asia Pacific" brought together Dr Yeo Lay Hwee (European Union Centre in Singapore), Dr Thorsten Clausing (Embassy of the Federal Republic of Germany to the Republic of Singapore), and H.E. Toru Morikawa (Asia-Europe Foundation) in discussing the relevance of scientific cooperation to not only enhance people-to-people connectivity, but also find common solutions to global issues like climate change.
The panel of Singaporean and European HEI representatives, consisting of Ms Jan Chua (Ministry of Education, Singapore), Dr Ong Eng Hong (Singapore University of Technology & Design), Prof. Cheah Horn Mun (Singapore University of Social Sciences), Assoc. Prof. Erle Lim (NUS), Mr Ronny Heintze (AQAS, Germany) and Mr Mervin Bakker (University of Groningen, Netherlands) highlighted  areas of common concern for Europe and ASEAN, including  the need for flexible mindsets and a rethinking of teaching and assessment. The value of the hybrid format—be it in the teaching and learning aspect, Quality Assurance (QA) assessment , student mobility—and the need to support not only students but also academic staff were underscored by all panelists.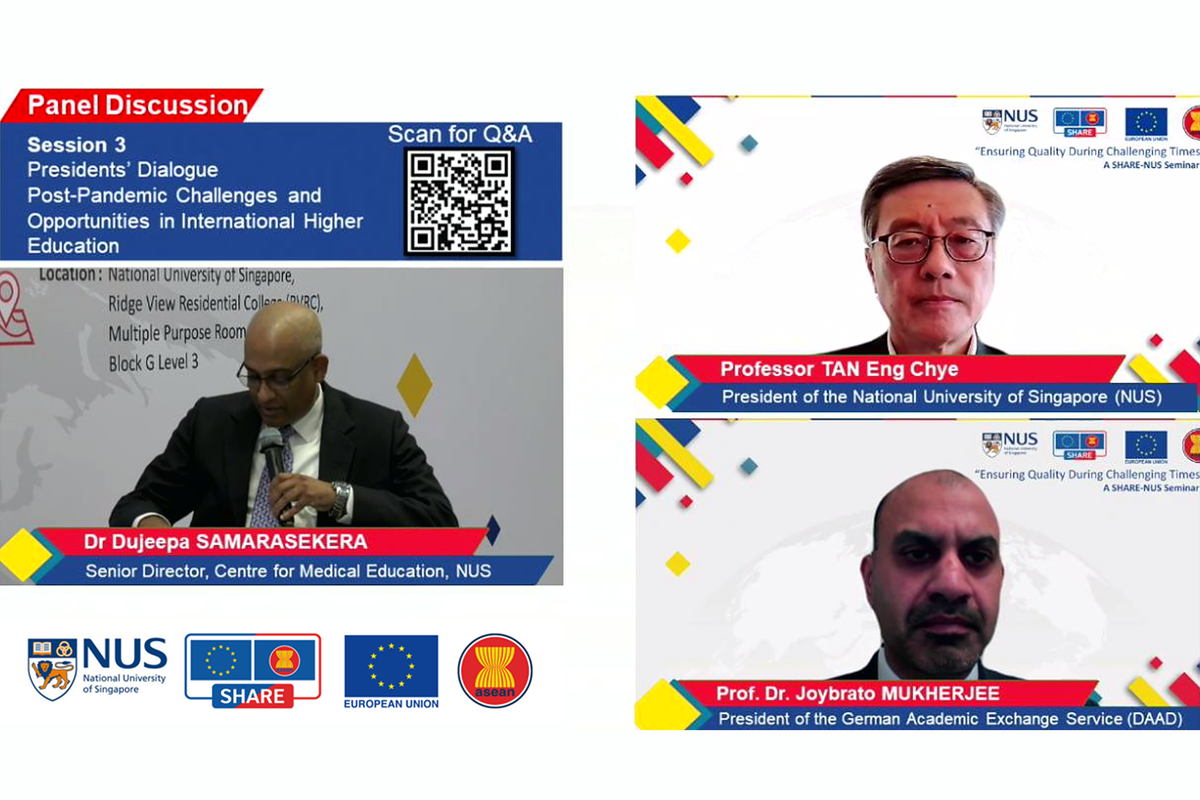 One of the highlights of the seminar was the "Presidents' Dialogue" between Prof Tan Eng Chye (NUS President) and Prof. Dr Joybrato Mukherjee (President of DAAD and Justus-Liebig-University Giessen) who joined virtually, which was moderated by Dr Dujeepa Samarasekera (NUS). Both Presidents emphasised the need to transition into new modes of learning by harnessing technology and adopting a more collaborative approach to global challenges like climate change through strengthened international scientific cooperation and experimental modes of co-creation, such as team-teaching.
On the Quality Assurance (QA) aspect, Ms Anna Gover (ENQA), Mr Michael Gaebel (European University Association), Dr Choltis Dhirathiti (ASEAN University Network) and Dr Hazman Shah Abdullah (ASEAN Quality Assurance Network) emphasised the exceptional ability of both ASEAN and European HEIs and QA agencies to adapt over the last 18 months. Despite the diverse educational systems and differing capacities and the pandemic became a catalyst for change in truly putting digital transformation in place. The trends reveal the proliferation of virtual  and hybrid modalities  of teaching and learning and QA assessment in the ASEAN region.
The seminar also covered the topic of recognition of qualifications in Europe and Asia, with Prof. Dr Maria Cynthia Bautista (Senior Advisor to the ASEAN Qualifications Reference Framework Committee), Mr Koen Nomden (European Commission/DG Employment, Social Affairs & Inclusion), and Mr Libing Wang (UNESCO Asia and Pacific Regional Bureau for Education) sharing a variety of initiatives and elaborating on the purpose of qualifications frameworks in supporting mobility and lifelong learning by focusing on learning outcomes. These are all set to increase in relevance under blended and hybrid modalities of education. Further topics such as micro-credentials, brain drain, and the importance of investing in a transparency tool to facilitate cooperation and work on QA were also discussed.
An ASEAN perspective on innovations and challenges in teaching and learning was presented by Dr Harry Santoso (University of Indonesia), Prof. Dr Nor Aziah Alias (Universiti Teknologi MARA, Malaysia), Dr Klangjai Tawornpichayachai (King Mongkut's University of Technology, Thailand), and Dr Shirley Agrupis (Mariano Marcos State University, Philippines) on their respective institutions' challenges in adapting to online learning.  They identified opportunities to enhance quality standards and guidelines at the national level, to foster a renewed focus on student and staff support, and to experiment with micro-credentials to reskill lecturers in a hybrid environment, and in engaging in meaningful internationalisation.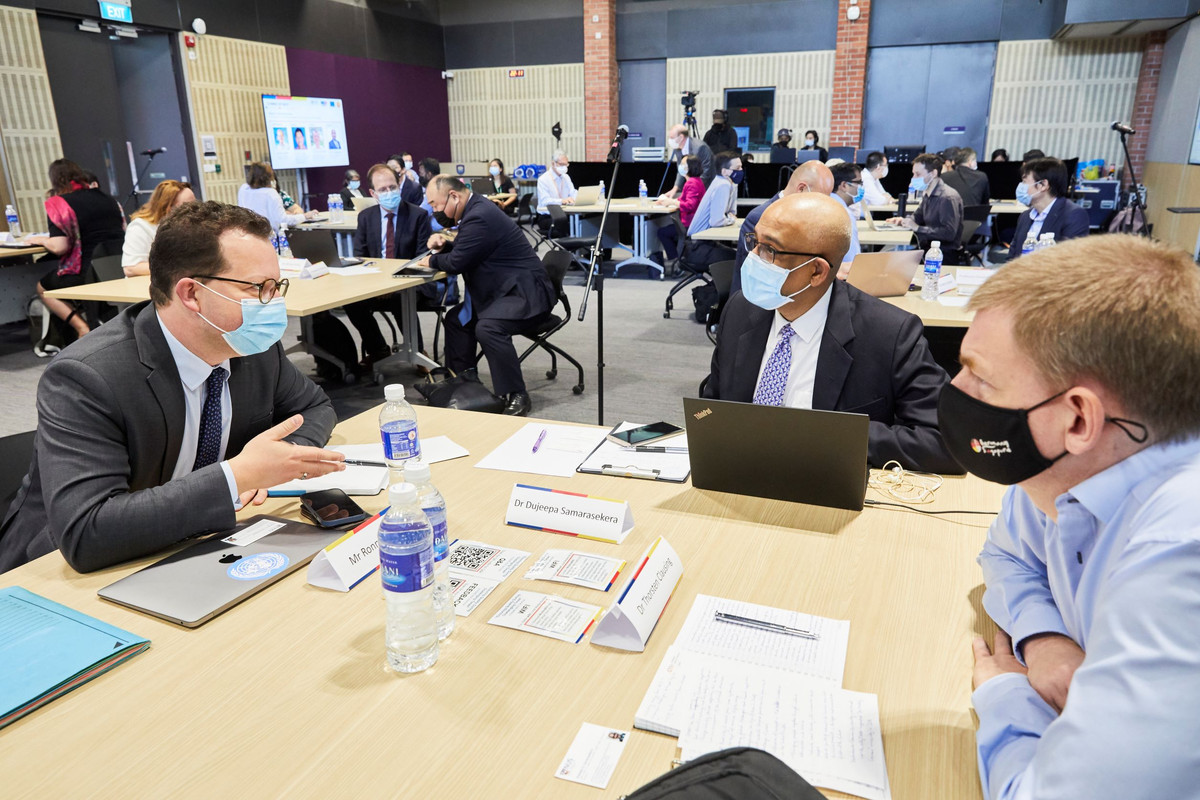 The seminar also provided an opportunity for participating representatives of Singaporean higher education institutions to engage in lively exchange with their ASEAN counterparts, particularly on the necessity of a national qualifications framework in Singapore, and the challenge of building a common understanding of the concept of quality.
As an outcome of the discussions, a White Paper will be issued to disseminate the recommendations from the seminar.