SHARE Collaborates with NUS to Convene "Ensuring Quality During Challenging Times" Seminar
English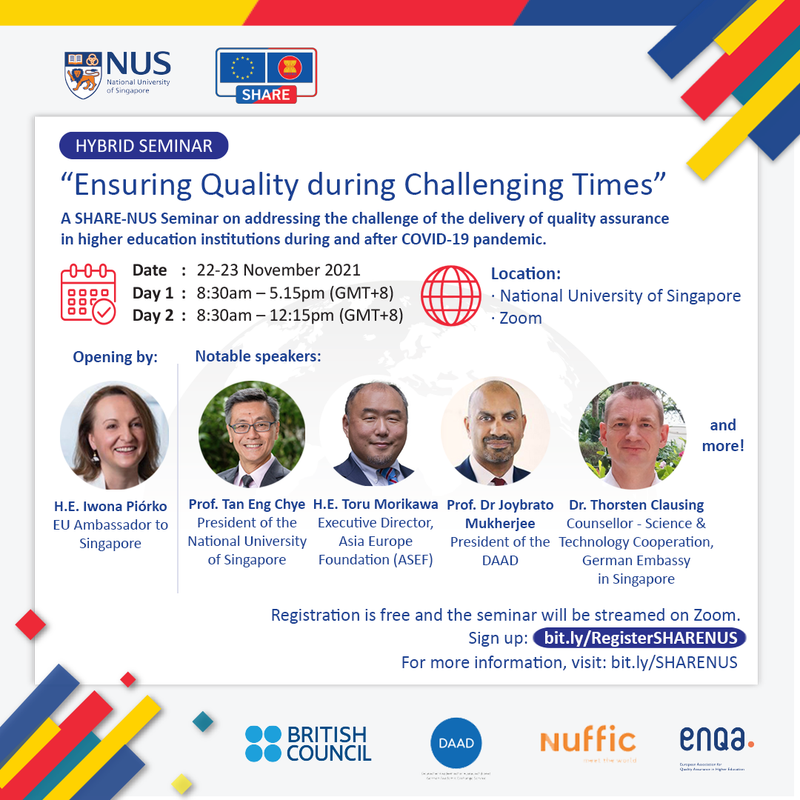 The higher education sector has demonstrated a need to address quality from a new perspective, particularly amidst the COVID-19 pandemic. Flexibility, a focus on digital learning, and the need to ensure universities' resilience are issues can be observed worldwide. To contribute to the increased need for dialogue between university leadership, policy makers and practitioners, the European Union Support to Higher Education in the ASEAN Region (SHARE) Programme in collaboration with the National University of Singapore (NUS) is convening the "Ensuring Quality During Challenging Times" seminar on 22-23 November 2021 at NUS, Singapore, and online via Zoom.
The seminar aims to:
Address the challenge of the delivery of Quality Assurance during and after the Covid-19 pandemic through more flexible QA measures;

Enhance the resilience of the higher education system in delivering skills-based outcomes;

Discuss opportunities associated with digital learning; and

Facilitate sharing of perspectives and good practices between Singaporean stakeholders and ASEAN and European peers on these topics.
Read more about the seminar programme and speakers line-up.
This is a hybrid seminar with the physical component of the seminar taking place at the National University of Singapore campus. The entire seminar is streamed online. To join the seminar virtually, please register HERE to receive access to the Zoom platform. (Registration is free.)
The SHARE National Seminars explore current Higher Education (HE) developments and their relation to Qualifications Frameworks (QF) / Quality Assurance (QA) by engaging national education stakeholders of ASEAN Member States through dialogue.